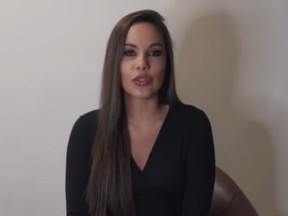 Article content
Beauty is in the eye of the beholder.
Article content
Bolivia's Miss Universe representative is being sued for making "racist and discrimatory" remarks against two rivals who she said resemble "transsexuals."
Article content
The mayor's office from the city of Potosi filed a complaint with Bolivia's Office of the Attorney General accusing Maria Fernanda Pavisic of discrimination and racism.
In video posted to her Instagram stories last week, the 23-year-old referred to Miss Paraguay, Miss Brazil and Miss El Salvador as "old ladies" and claimed the women representing Ecuador, Aruba, and Curaçao all belong in the "thanks for participating" category, the Daily Mail reported.
Article content
She also said Miss Venezuela and Miss Peru looked like "transsexuals" and referred to Miss Argentina as "Miss Potosí."
Pavisic has since posted a recorded apology to the contests and claimed her remarks were part of a "social project."
She wrote, according to the translation, "There have been many Misses Bolivia but my intention was always to generate change."
Article content
Pavisic continued, "For a long time I have published positive content, self-love, working with my social project and showing my culture, however, in the sea of news that exists on social networks, people decided to support the negative."
She added, "Maybe this puts all my dreams at risk but it will be worth it if I at least raise awareness in ONE person!"
In a video the following day, she apologized for how she handled things.
Article content
"No one deserves to be offended and it was never my intention, above all I apologize to the city of Potosi and its people," read her caption. "I never wanted to offend them, I respect their land and their people who gave me a lot at the time love and support! I respect my country and it is what I love the most!"
Potosi authorities haven't been so forgiving.
RECOMMENDED VIDEO
"She has denigrated the Potosian woman, she has no merit or morals to represent Bolivia in an international contest," the city's mayoral advisor Richard Alejo told The Associated Press.
Roxana Graz, head of the Potosi civic committee, is now demanding Pavisic be removed as Miss Bolivia.
The Miss Universe 2023 contest is on Jan. 4.
Read this on Transsexual