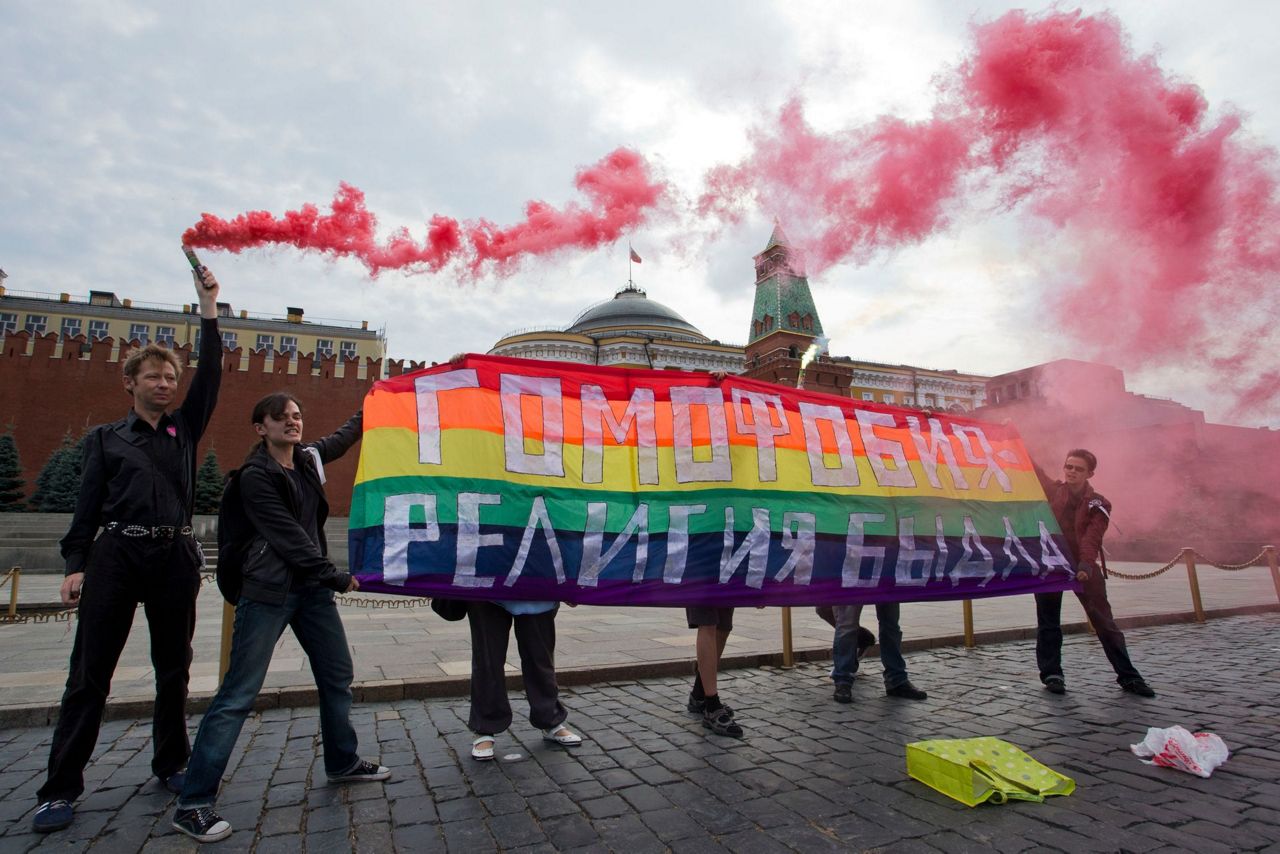 TALLINN, Estonia (AP) — Russian lawmakers on Thursday approved a toughened version of a bill that outlaws gender transitioning procedures, with added clauses that annul marriages in which one person has "changed gender" and bar transgender people from becoming foster or adoptive parents.
The bill received swift, unanimous approval of Russia's lower house of parliament, the State Duma, in its key second reading, and lawmakers scheduled the third and final reading for Friday. There is little doubt that the bill, a crippling blow to Russia's oppressed LGBTQ+ community, will be adopted amid the Kremlin's crusade to protect what it views as the country's "traditional values."
The bill bans any "medical interventions aimed at changing the sex of a person," as well as changing one's gender in official documents and public records.
New clauses added to the bill also amend Russia's Family Code by listing gender change as a reason to annul a marriage and adding those "who had changed gender" to a list of people who can't become foster or adoptive parents.
Lawmakers portray the measure as protecting Russia from "the Western anti-family ideology," with some describing gender transitioning as "pure satanism."
It has rattled the country's transgender community and has drawn criticism not only from LGBTQ+ rights advocates but from the medical community as well.
Lyubov Vinogradova, executive director of Russia's Independent Psychiatric Association, called the bill "misanthropic" in an interview with The Associated Press. Gender transitioning procedures "shouldn't be banned entirely, because there are people for whom it is the only way to ... to exist normally and find peace with themselves," Vinogradova said in a phone interview.
The crackdown on LGBTQ+ people started a decade ago, when President Vladimir Putin first proclaimed a focus on "traditional family values," a move ardently supported — and fueled, to a certain extent — by the Russian Orthodox Church.
In 2013, the Kremlin adopted the first legislation restricting LGBTQ+ rights, known as the "gay propaganda" law that banned any public endorsement of "nontraditional sexual relations" among minors. In 2020, Putin pushed through a constitutional reform that outlawed same-sex marriage.
But the authorities ramped up their rhetoric about protecting the country from what it called the West's "degrading" influence after sending troops into Ukraine last year, in what rights advocates saw as an attempt to legitimize the war.
Lawmakers moved last year to ban "propaganda of nontraditional sexual relations" among adults. That initiative was quickly rubber-stamped, and by December 2022, any positive or even neutral representation of LGBTQ+ people in movies, literature or media was outlawed.
The bill to severely restrict trans rights came a few months after that.
Vinogradova was among two dozen lawyers, activists and psychiatrists who put their names to a review of the bill that deemed it unnecessary and harmful. The document pointed that the bill goes against Russia's existing laws, including its constitution.
Existing Russian regulations view gender transitioning procedures as medical treatment for "transsexualism," a psychiatric condition in accordance with the 10th version of the International Statistical Classification of Diseases and Related Health Problems, a medical classification list by the World Health Organization that Russia follows.
So to ban gender transitioning procedures is to deprive people diagnosed with the condition of medical help in violation of the constitution and other Russian laws, according to the review.
"(Medical) professionals we're talking to believe it is absolutely unacceptable," Vinogradova said.
She rejected the state narrative that gender transitioning is something imposed on Russia by the West and noted that studies of transgender issues were being conducted since the 1960s in the Soviet Union, "and it was normal, no one was concerned by it, but now, it turns out, goes against our traditional values."
An online petition against the bill by Yana Kirey-Sitnikova, a transgender studies researcher, also mentions that gender-affirming care was available in the Soviet Union since the late 1960s and that transgender people were able to change gender markers in official documents as early as the 1920s.
"Medical and legal assistance to transgender people has a long history in the Soviet Union and Russia," said the petition, signed by over 7,200 people to date. It warned of "serious deterioration in the health and well-being of transgender people" if such assistance ceases to exist.
Nef Cellarius, coordinator of the peer counselling program at the LGBTQ+ rights group Coming Out, told AP that already high depression rates and suicide thoughts are likely to spike among transgender people once the bill is adopted. Another negative consequence of that could be the emergence of an unregulated black market of gender-affirming care, he said in a phone interview from Lithuania.
The new provisions on annulling marriages and banning adoption or guardianship over children leaves transgender people even more vulnerable, Cellarius said.
In some previous cases, officials did demand that a couple divorce before changing gender in documents, if such a change could lead to a same-sex marriage, which are illegal in Russia; but some were able to keep their marriage certificate, the activist said. Now all marriages in which one or both people have changed gender would be annulled.
There is one new provision, however, that might leave the window open for some transgender people, according to human rights lawyer Max Olenichev, who works with the Russian LGBTQ+ community. It allows for a "transitional period" for those who have undergone gender-affirming surgery but haven't yet changed gender in official documents to do so, Olenichev told AP in an interview from Prague.
"These transitional provisions will remain in place for an indefinite period of time, and people will be able to use them," Olenichev said, adding that even with this provision in place, "in essence, gender transitioning in Russia is banned."
Copyright 2023 The Associated Press. All rights reserved. This material may not be published, broadcast, rewritten or redistributed without permission.
Read this on Transsexual