Deputy Immigration Bureau Chief Police Major General Panthana Nuchanart explained that the operation carried out by a special task force was part of a programme ordered by Prime Minister Prayut Chan Ocha targeting online criminality linked to foreigners in Thailand which was damaging the image of the kingdom and which posed a nuisance to the public.
Police this week arrested an American Thai couple in Hua Hin after they suppressed the operation of what they believed to be Thailand's leading prostitution website catering to foreign tourists in the kingdom. A press conference in Bangkok was told that ฿40 million in assets were seized including a pool villa and ฿9 million in bank deposits in a joint task-force raid last Sunday morning.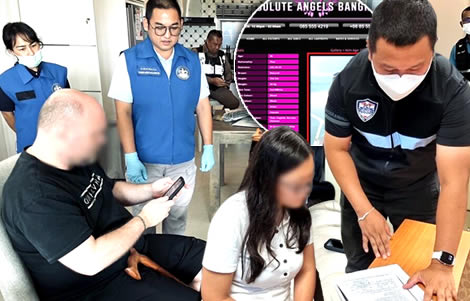 Police in Bangkok with the Immigration Bureau and Information Technology Crime Suppression Centre have announced the closure of Thailand's biggest online escort service and sex agency website operated by a husband and wife team who lived in Hua Hin.
The website, according to a police briefing given by Deputy Immigration Bureau Chief Police Major General Panthana Nuchanart, was the leading site on Google and had nearly 430,000 visits per month according to police cyber experts.
Website was the largest sex-for-hire site in Thailand ranking first on Google, said top police officer on Friday as he briefed the media on the arrests
The website identified as Absolute-Angels-Bangkok.com was the subject of a police operation which began on Sunday morning last, the 13th of August at 5 am when officers arrested the administrator, a 34-year-old Thai woman named Ms Kanya, who had just arrived off a flight at Suvarnabhumi Airport.
Police, in the company of the arrested woman, later stormed a luxury villa in the Hua Hin area of Prachuap Khiri Khan province, where they arrested a 48-year-old American man, Ms Kanya's husband, identified provisionally as Mr Brad, who is thought to be the ultimate beneficial owner of the website which lists an address in Bangkok and operated extensive prostitution for hire services catering for foreign tourists in Thailand.
The pair were arrested based on a warrant from Pattaya Provincial Court Number 417/2566 which charged the couple with prostitution offences including the provision of services catering for the 'desires of others and being engaged in procuring, luring or taking away for the indecent purposes of a man or a woman, even if that person consents, assisting, facilitating or protecting the operation of prostitution by others.'
Prime Minister General Prayut Chan Ocha's order to crack down on online criminality and activities by foreigners which damage the image of the kingdom
At a press conference on Friday which was addressed by senior officers of the Immigration Bureau as well as officials from the Information Technology Crime Suppression Centre, General Pathana revealed that various operations were conducted, in recent weeks, as part of a policy outlined by the Prime Minister, General Pryo Chan-ocha, to deal with online problems related to criminality and questionable activities of foreigners in Thailand.
He said a directive was approved by the Royal Thai Police Commissioner General Damrongsak Kittiprapas as well as Police General Roy Inkpairoj, the Deputy Chief of the Royal Thai Police at Headquarters.
He explained that the escort service website was controlled by the husband and wife who lived at the luxury villa in Hua Hin even though it had a public address on the Sukhumvit Road, in Bangkok.
The website, it is understood, has been in operation for over 10 years, according to Ms Kanya, when responding to police questioning last Sunday.
The website itself suggests that it was established in 2014.
Site clearly offered prostitution for sale
Police investigating its activities in July this year found that it offered the services of at least 80 prostitutes, including women, ladyboys and groups of sex workers working in pairs, being hired by customers as part of a wide range of offerings featured on the site.
This was confirmed to investigating officers last Sunday when they questioned Ms Kanya at the luxury villa in Hua Hin following her arrest, based on their own enquiries and intelligence.
The website is still online and has not yet been the subject of a closure or restriction order by the Digital Economy and Society Ministry.
A cursory review shows that it clearly advertised prostitution services with detailed reviews given by customers from mid-July to the end of July, most of them appearing to be English-speaking foreigners, raving about and paying compliments to the sex workers working on the online facility together with photographs of attractive young women in provocative clothing and poses.
Police executed search warrant for luxury pool villa as well as arrest warrants for the site's owners
Before the raid last Sunday, police also obtained a search warrant from Hua Hin Provincial Court No. 283/2566 dated 11th August 2023.
As part of the search conducted after officers swooped on the property at 6 am, four computers were seized as well as various account books and financial statements.
Police, acting under money laundering laws, also seized approximately ฿40 million in assets linked with the operation of the site, including the pool villa which was estimated to be worth ฿15 million, a Mercedes-Benz C200 coupé worth ฿3.5 million, a Honda CRV car worth ฿1.8 million and various bank accounts containing ฿9 million.
It is understood that shares listed on the Stock Exchange of Thailand (SET) were also recovered although police are examining these investments.
In the briefing to the media, senior officers made it clear that the website was operated with the assistance of additional foreigners in Bangkok and outside Thailand.
Police probe potential money laundering activity outside Thailand associated with sex trafficking site
Police are also believed to be in contact with international law enforcement forces as they are concerned that the owners of the site may have been involved in money laundering activities outside Thailand.
Officers confirmed that the site was also linked to offshore activity.
Miss Kanya is understood to have informed police that the website before it was set up in Thailand, had operated from outside the country but at some stage, its operators moved it back to Thailand presumably for a better lifestyle.
Police officers working on the case told reporters that they had received complaints about some of the prostitutes working on the site who caused problems related to drug and alcohol abuse.
In their presentation to the reporters, stressed that the operation of businesses by foreigners in Thailand which causes the country to be seen in a negative light is a priority in terms of suppression by the Royal Thai Police.
Case linked to push against transnational crime
Officers also highlighted that the suppression of the website was part of Thailand's ongoing campaign to address the country's links with transnational crime and human trafficking.
The operators of the site used various contact points in its day-to-day operations including Apple iPhones, WhatsApp connections, mobile phone telephone numbers and landline connections as well as providing payment services with a full range of international credit cards and PayPal.
Investigators underscored that any activity in connection with prostitution in Thailand would be the subject of police action including the advertising of such services as well as the solicitation of prostitution and rendering assistance to those involved in the industry which presented itself as a source of shame to Thailand and a nuisance to the public.
Police at the press conference indicated that they had used Ms Kanya's iPhone to track her whereabouts and coordinate her arrest last Sunday morning as she came off her flight at Suvarnabhumi Airport to be greeted by waiting officers with an arrest warrant.
Further reading:
Swiss man on the run abroad after underage sex ring and bar in Phuket is shut down in police raid
New 'Green' future for tourism in Phuket as officials crack down on prostitution on the island
Freak death of Kyrgyz woman in Pattaya linked to Chinese gang who forced her into prostitution
Child prostitution gang that ran a sex racket that terrorised children smashed by armed police
Calls to legalise prostitution in Thailand after Pattaya sex raid on Walking Street this week
Police probe high-end Thong Lor club prostitution links and may call in the owners for questioning
Record year for Thai tourism but not so good for Thailand's bar girls and luxury hotels as market has changed
Police raid on prostitution bar in Udon Thani linked with serving policeman and his Thai wife
Activist slams Air Asia ad campaign in Australia that she claimed promoted Thai sex tourism at Aussie blokes
Thai police raid a sex for sale hotel in Loei province staffed by Laotian women working as prostitutes
Read this on Ladyboy